Ask New Yorkers to talk about 9/11, and they will likely recall the day and events that unfolded in vivid detail: the clear September morning, where they were when the towers fell, the shock and disbelief, and the feeling of irrevocable change that settled in the aftermath.
We asked our tour guides to share their memories of that day. As diverse as they may be, their firsthand accounts of the tragedy and heroism of 9/11 speak to the unifying experiences of being a New Yorker and an American.
The Morning of 9/11
On the morning of September 11, 2001, I woke up just like any other day. I worked on the 15th floor of 10 Exchange Place in Jersey City, a skyscraper on the Hudson River right across the Hudson River from the World Trade Center.
I remember how nice of a day it was — about 70 degrees with a cool breeze. Sometimes early September in New York can be sweltering, but that day was as pleasant as they come.
– Tom S.
8:46 a.m. and 9:03 a.m.
I was in my office when the first plane harpooned the North Tower at 8:46 a.m. While watching the flaming building from the trading floor, I attempted to contact the observation deck to make sure they left immediately.
At 9:03, the second tower was struck, the resulting blast slamming the building, bending in the windows, followed by the concussions of the sound, and then the transfer of energy through the rock which shook the building. With no plan in place for what to do when planes hit towers, decisions were made and our floor was evacuated.
– Tony
9:15 a.m.
I was sleeping in on September 11, 2001, and was awakened at around 9:15 a.m. by the sound of fire engine sirens — lots of them. I looked out of the apartment window, out into the gorgeous Indian summer day, and saw a stream of firetrucks racing downtown.
– Jon
10:45 a.m.
On 9/11, I was working as a news reporter for a financial magazine. I arrived at the office near Penn Station at 10:45 a.m. and walked into the newsroom when a coworker shouted, "The World Trade Centers are gone!"
I said, "That's impossible!"
He said, "Look out the window."
I looked outside and could not believe what I was seeing — black smoke rising from where the Towers once stood.
– Sandy
The Aftermath of 9/11
Suddenly, it hit me that my mom was on a plane.
My brain immediately jumped to the worst-case scenario. I am extremely lucky that it was not the worst-case scenario, but she was on one of over 255 U.S.-bound flights diverted to Canada when U.S. airspace was closed that day.
She, along with about 6,000 others, landed in a tiny town called Gander Newfoundland, which has a population of around 7,000 and an airport that normally sees just a few flights per day. The airport was so over capacity that it took them 19 hours to get off the plane.
I have to mention that the people there were wonderful. They put food out on the ice rink because it was the only place in town large enough to keep food cold for that many people, and they made up beds everywhere they could, including on church pews.
My mom had a generous gentleman offer her an air mattress her first night, which she refused because she didn't want to seem privileged above anyone else. Then after one night on a church pew she went and found him again and got the air mattress. She was stuck in Gander for a full week.
– Nathalie
2 Days After 9/11
Two days later, I returned to work in a city that had completely changed.
Military soldiers with machine guns lined the street in Times Square as I walked to my office. We were evacuated again that day due to more bomb threats at Grand Central. Subways were shut down again.
In 2000, I worked in the South Tower as a temp and I was supposed to fly out of Newark airport, where Flight 93 departed from, on September 12th. I can't help thinking how lucky I was and still am.
– Tauren
4 Days After 9/11
The feeling of disbelief still haunts me to this day. How could something as permanent as the Twin Towers collapse? It shook me to my very core.
The area of Lower Manhattan was closed for four days as was the New York Stock Exchange. Goldman's offices were also closed.
When subway service resumed on Saturday, I made my way downtown to see the destruction for myself. Upon exiting the subway the first thing that struck me was the smell: the cloying smell of burning rubble and steel mixed with the very pungent smell of nearly 3,000 decaying bodies. A smell I will never forget.
– Tom C.
Remembering 9/11 Through Stories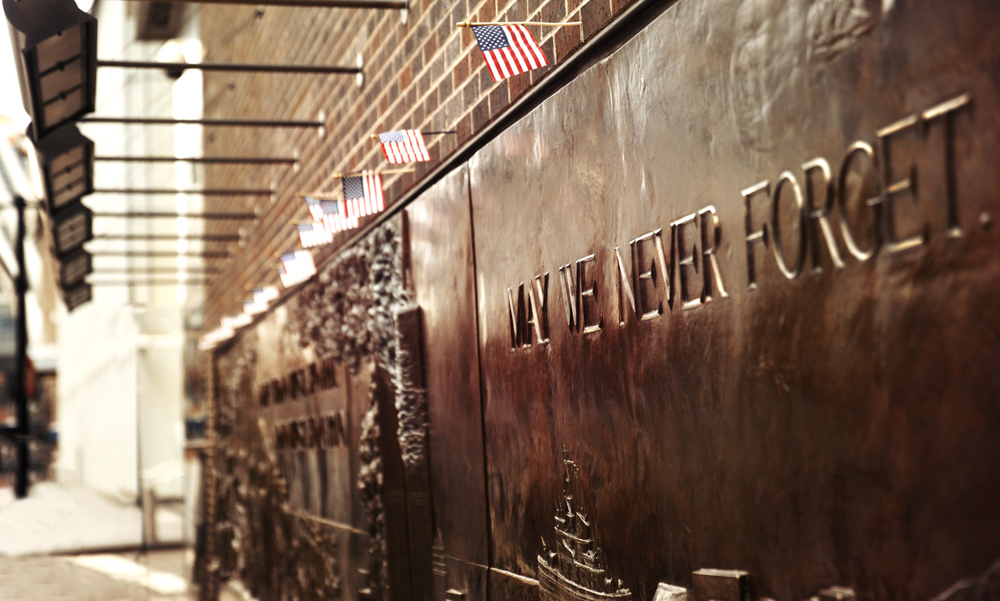 Part of the way we honor the memory of the lives lost that day is through the stories we tell. And while September 11, 2001, was a day of tragedy, it also had moments of true heroism.
There are many ways to experience the 9/11 Memorial and the other landmarks of Ground Zero. We think visiting with a New Yorker who can tell you their story firsthand will help frame your understanding of this chapter in NYC and America's history. That's why all our tour guides have a personal connection to 9/11.
But however you choose to experience Ground Zero, we hope you'll include it on your busy trip to New York. Along with the memorial and museum — both worth a visit — many people find the One World Trade Center, often called Freedom Tower, is a fitting capstone to their day. As the tallest building in the Western Hemisphere, Freedom Tower and its lofty observation deck leave you with a sense of hope for the future. You can look out on a New York that is changed but resilient and strong.
For more on the inspiration to be found at Ground Zero, see our list of six inspirational sights at the 9/11 Memorial and Museum.