Visiting the Financial District and want to know where to eat? I have the definitive list right here, from a New Yorker's perspective, with 27 options to cover all budgets and dining styles.
Given all there is to see and learn in the area, a visit to the 9/11 Memorial & Museum in New York's Financial District can last anywhere from a couple of hours to an entire day. If you plan on staying for a while, you'll get hungry.
Luckily, the Financial District isn't just home to businesses but also a wealth of delicious and diverse food. Check out any of the following restaurants or eateries — carefully curated by a local NYC tour guide (that's me) to accommodate a range of palates.
Your Dining Destination: Where is the Financial District?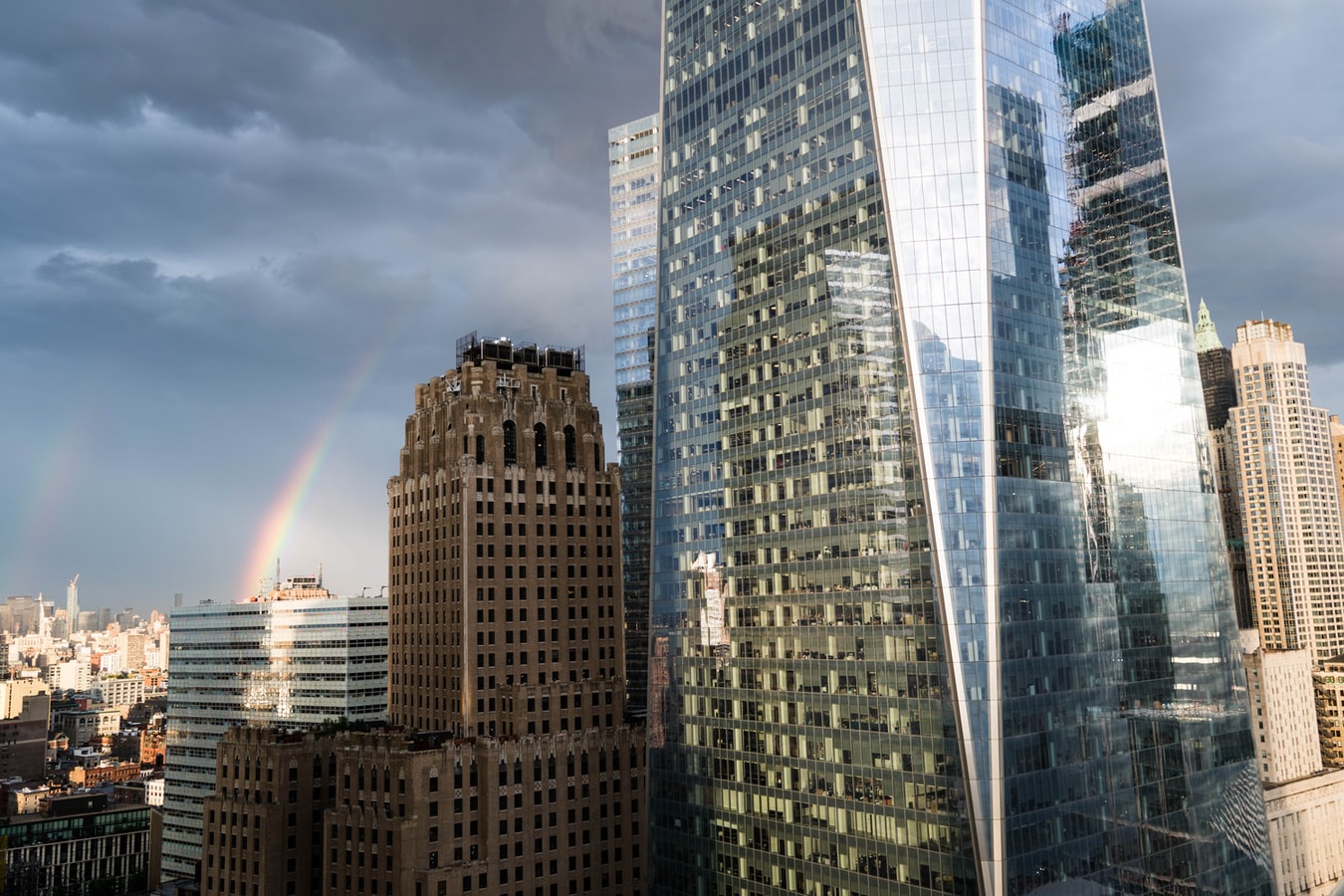 The area known as the Financial District runs from Battery Park up north to Chambers Street and the Brooklyn Bridge. This includes the 9/11 Memorial & Museum and the World Trade Center, which occupies the western side of the neighborhood.
Beyond the memorial area, there's Wall Street. Here, you'll see the businesses and sights that have shaped the district from its beginning.
Below, I'll cover where to eat in the Financial District, whether you're touring Wall Street or the 9/11 Memorial or just in the area and need to grab something good. Without further ado, here are the top 27 places to eat in the financial district that locals love.
1. O'Hara's, 120 Cedar Street
1 minute from the 9/11 Memorial
Of all the restaurants on this list, O'Hara's certainly has the most significance in relation to September 11th. Sitting on the corner of Cedar and Greenwich Street, this neighborhood Irish bar was just out of reach of Ground Zero and became a haven for rescue workers, firefighters and policemen in the days following the attacks.
Lining the walls are hundreds of patches, as a tribute to the first responders. Ask to take a peek at their 9/11 book to see pictures and read accounts from those who witnessed the events and aftermath of the event firsthand.
2. Luke's Lobster, 26 S. William Street
15 minutes from the 9/11 Memorial
Inspired by Maine, Luke's Lobster prides itself on offering some of the freshest seafood around. Popular orders for locals who love it include their classics: the lobster roll (of course) and the clam chowder.
3. Clinton Hall, 90 Washington Street
5 minutes from the 9/11 Memorial
You'll know you've found Clinton Hall when you spot the long picnic tables, giant chess board, and Ping Pong. The vibe of this beer garden is a perfect combination of trendy and industrial. Even the menu is a hybrid of regular bar food with a unique twist and some unexpected surprises.
What should you order? Go all out — I suggest indulging in the Donut Grilled Cheese or, for a meatier option, the Fondue Burger.
4. Pronto Pizza, 141 Fulton Street
5 minutes from the 9/11 Memorial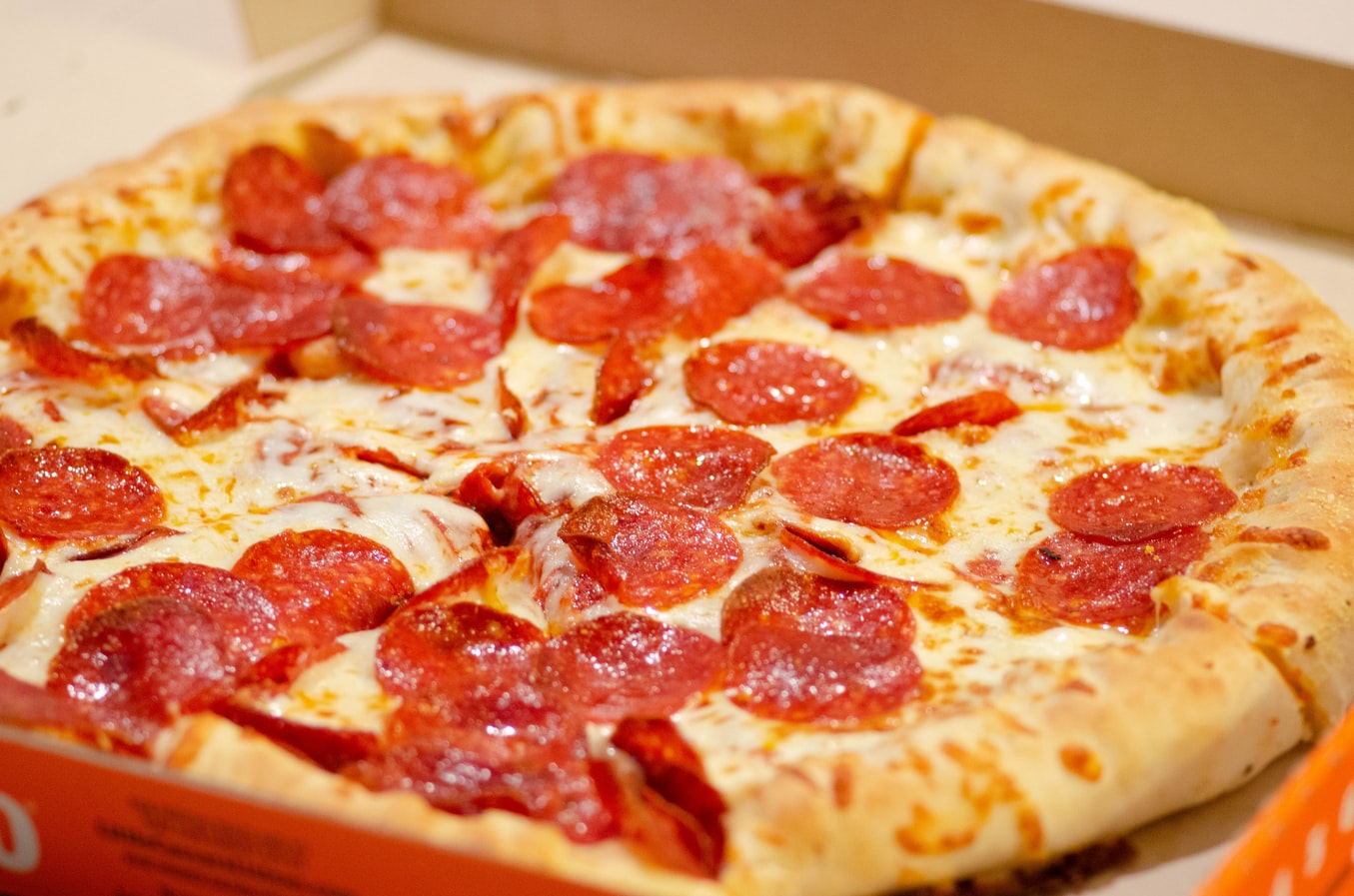 A local favorite, Pronto Pizza provides classic pizza pies and Italian entrées. Nothing beats New York pizza, and with plenty of options — ranging from barbecue to spinach and artichoke — you can't go wrong at Pronto.
5. Go! Go! Curry, 12 John Street
5 minutes from the 9/11 Memorial
This curry house's menu showcases Japanese curry in almost all its dishes. More casual than high-end, Go! Go! Curry is a great option if you're looking to grab-and-go. I recommend the chicken katsu or shrimp gyoza.
6. Veronica's Kitchen, 141 Water Street
15 minutes from the 9/11 Memorial
7. The Capital Grille, 120 Broadway
10 minutes from the 9/11 Memorial

With locations across the country, The Capital Grille is a popular chain of steakhouses that serves American cuisine. Yes, it is a chain, but there's an upside here. Locals love this fine-dining restaurant because you know what you're getting. It's fairly pricey but always delivers on high quality meat and great service.
8. Merchant River House, South End Avenue Hudson River
8 minutes from the 9/11 Memorial
This scenic spot comes with unbeatable views of the Hudson River and even a glimpse at the Statue of Liberty. There's a good selection of seafood, a quiet atmosphere and a romantic spot for date night. The outdoor patio is ideal if the weather is warm.
9. Oculus, Church Street
1 minute from the 9/11 Memorial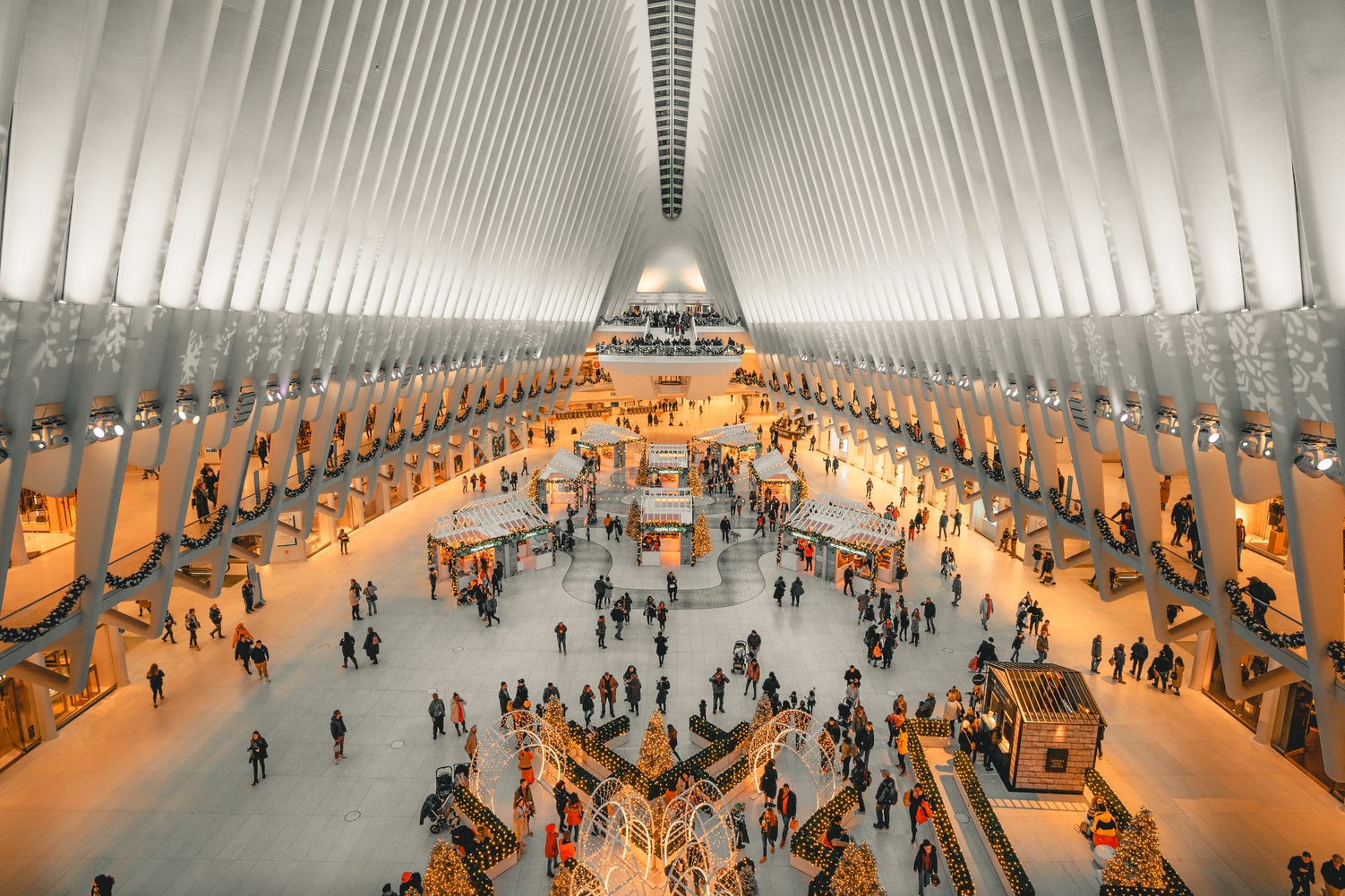 When visiting the Oculus, you might think it's only good for shopping and catching the subway. But after spending some time walking through the web of different hallways, you'll find a variety of places to grab some food.
There are quick-eat favorites like Dunkin Donuts and Starbucks, plus more adventurous choices like Joe & the Juice and Sweetcatch Poke. Look out for the Gansevoort Market opening this fall, which will bring over a dozen new food shops into the building.
10. Nish Nush, 41 John Street
5 minutes from the 9/11 Memorial
Looking for something vegetarian?
Nish Nush is a reasonably priced, casual and quick dining option that everyone in the group can enjoy. The falafel and the hummus are house-made and top quality.
11. Eataly NYC Downtown, 4 World Trade Center
1 minute from the 9/11 Memorial
An Italian marketplace operating in multiple locations across the U.S. and the world, Eataly has often been praised for its uniqueness, especially as one of the only eateries in the city to offer marketplace shopping, grab-and-go options, and restaurant-style seating for any meal of the day.
There are plenty of takeaway choices for pizza, coffee, and dessert, but see below for some of the finer, sit-down restaurants.
12. La Pizza & La Pasta
Tucked inside Eataly, this is the perfect place to relax for a while. Watch pizza dough and pasta be prepared from your table at this simple, yet delightful, restaurant with seasonal ingredients and great views of the 9/11 Memorial plaza.
13. Osteria Della Pace
The dining experience at Osteria Della Pace, another Eataly favorite, is more upscale but offers some privacy from the busy market. Come here for classic Italian cuisine influenced by the various regions of Italy.
14. Vino E Grano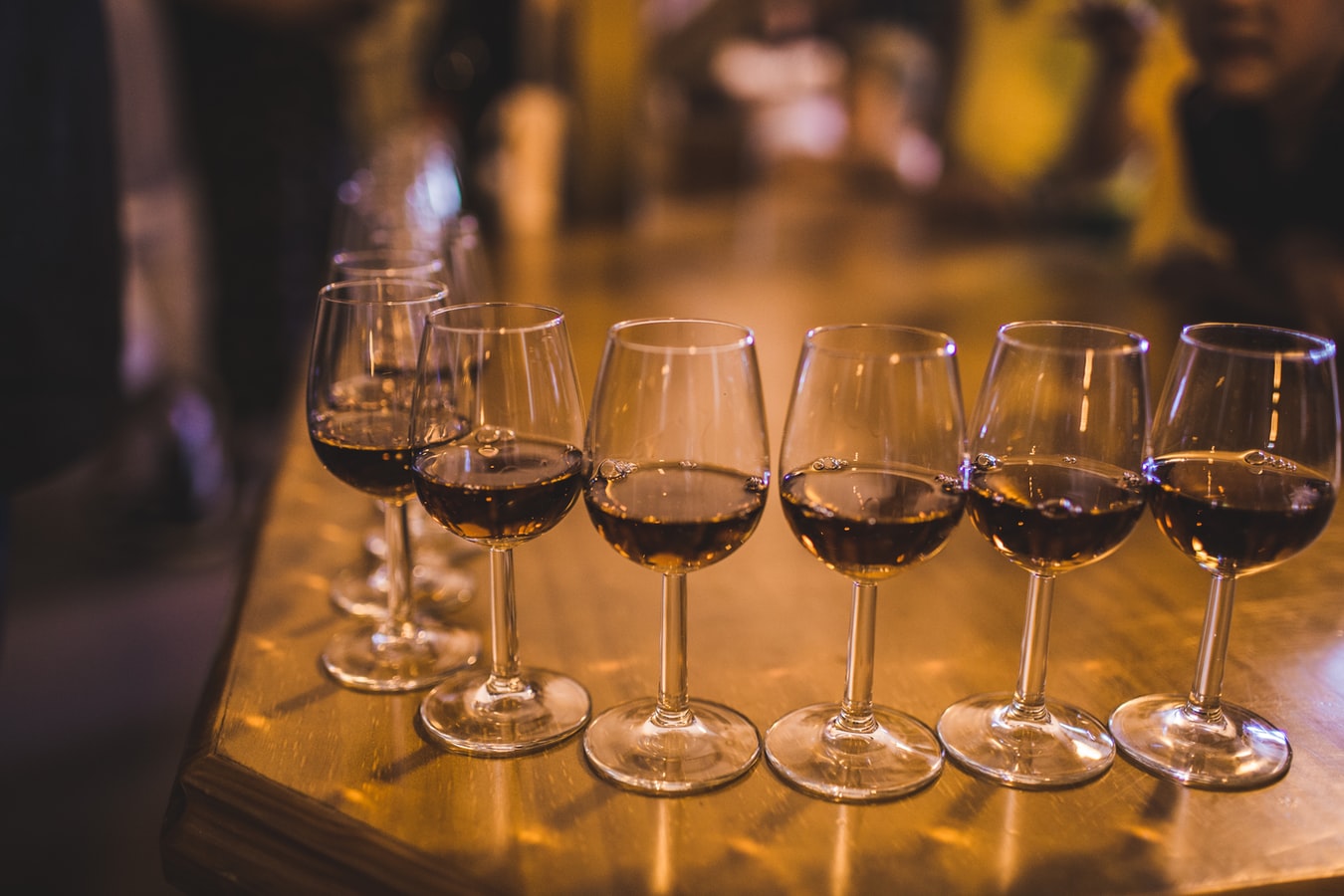 Sample some fresh produce and sip on some wine at this high-top table bistro right in the middle of the Eataly marketplace. A highlight of the menu is the Prosciutto di Parma, which pairs well with the house made mozzarella.
15. Bill's Bar & Burger, 85 West Street
2 minutes from the 9/11 Memorial
Bill's Bar & Burger provides a diner-style atmosphere with big booths and gingham tablecloths. It's a classic. The burgers are heavenly, the beer list is long and the service is quick & friendly. I promise you — you can't go wrong here.
16. Fraunces Tavern, 54 Pearl Street
15 minutes from the 9/11 Memorial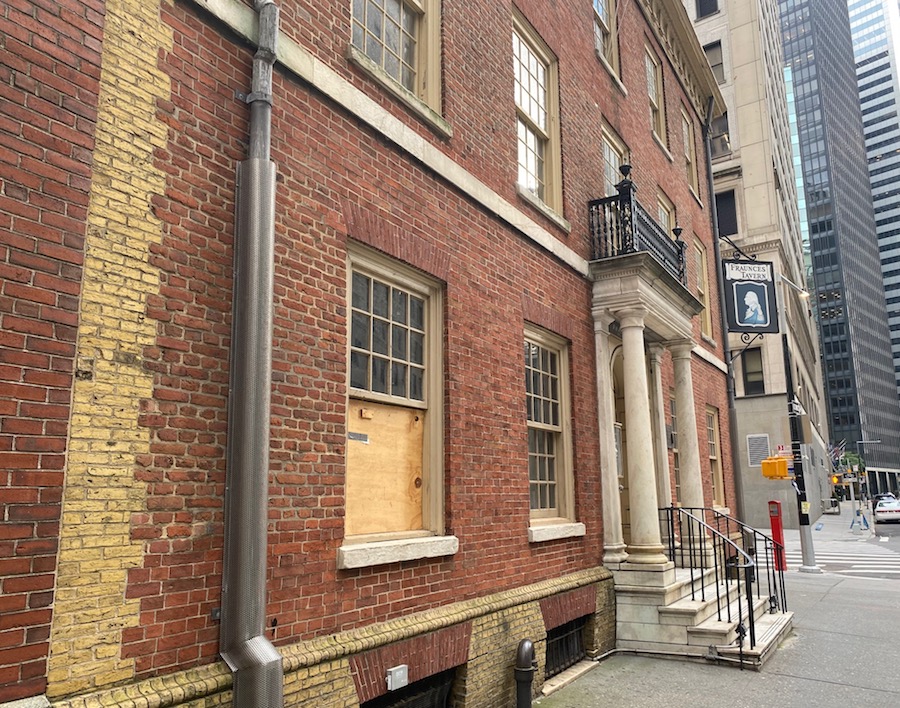 American history and yummy food come together seamlessly at Fraunces Tavern, the oldest restaurant in the city (and a stop on our free, self-guided Hamilton walking tour.)
There are different menus for brunch, lunch, and dinner with each featuring traditional but slightly upscale American fare. The upstairs museum recounts the history of the building from its birth in 1762 to its prominent role during the American Revolution.
Most famously, the tavern has served as headquarters to George Washington, a venue for British peace negotiations, and a meeting place for the Sons of Liberty secret society. There is almost always a wait to get in, but it is definitely worth it.
17. The Dead Rabbit, 30 Water Street
15 minutes from the 9/11 Memorial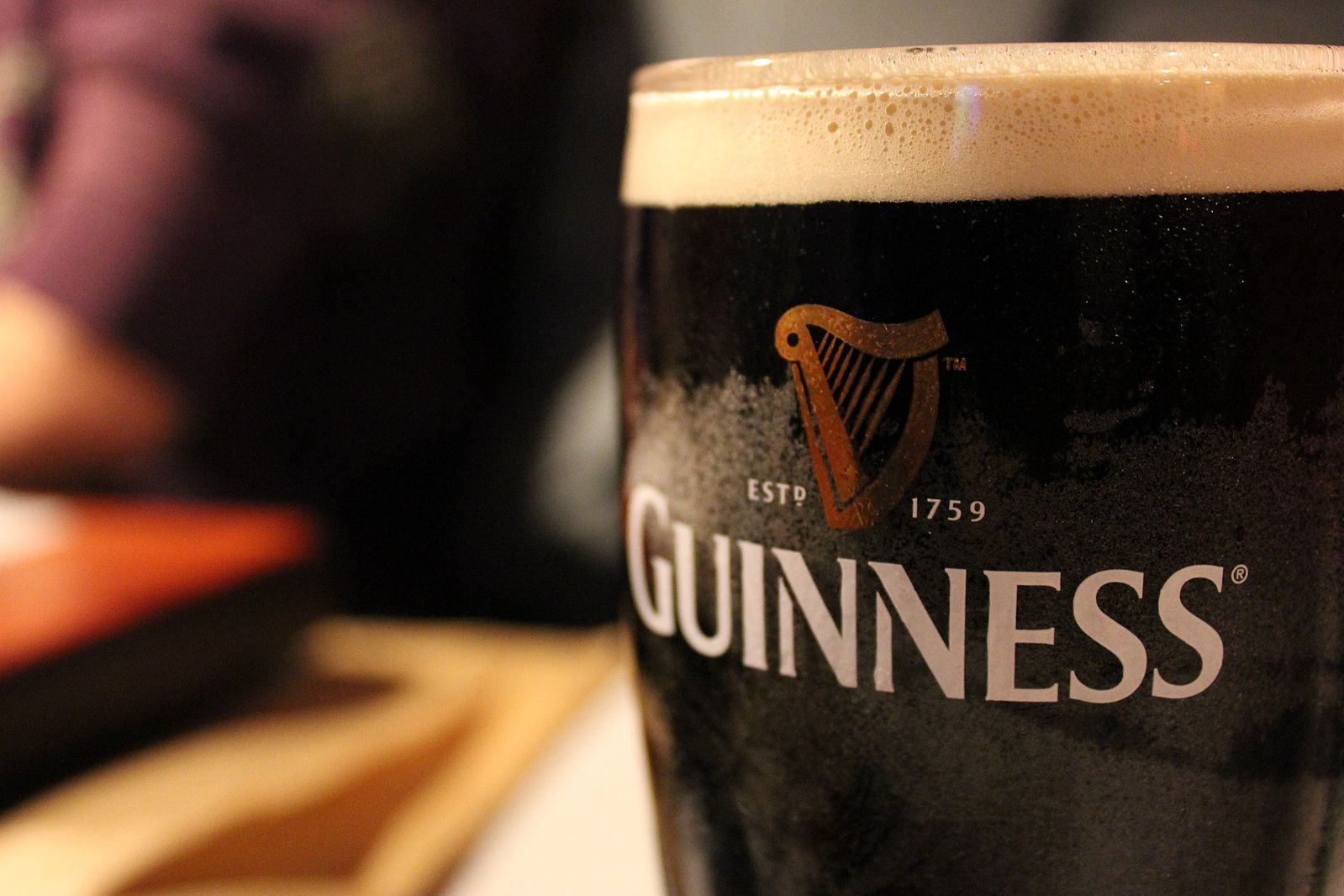 This Irish pub offers cocktails, craft beer, and other libations, such as their "world-famous Irish coffee" and "the best Guinness in New York." Food portions are on the smaller size, so it's an ideal place if you're looking for some classic bar grub.
18. Bombay's, 60 Pearl Street
15 minutes from the 9/11 Memorial
On the backside of Dead Rabbit is Bombay's, a straightforward counter-service restaurant with traditional Indian dishes. Locals often praise their fresh-tasting food and the huge selection of curries.
Also — and this is just extra — the bowls are colorful, perfect to brighten up your Instagram game.
19. Stone Street
15 minutes from the 9/11 Memorial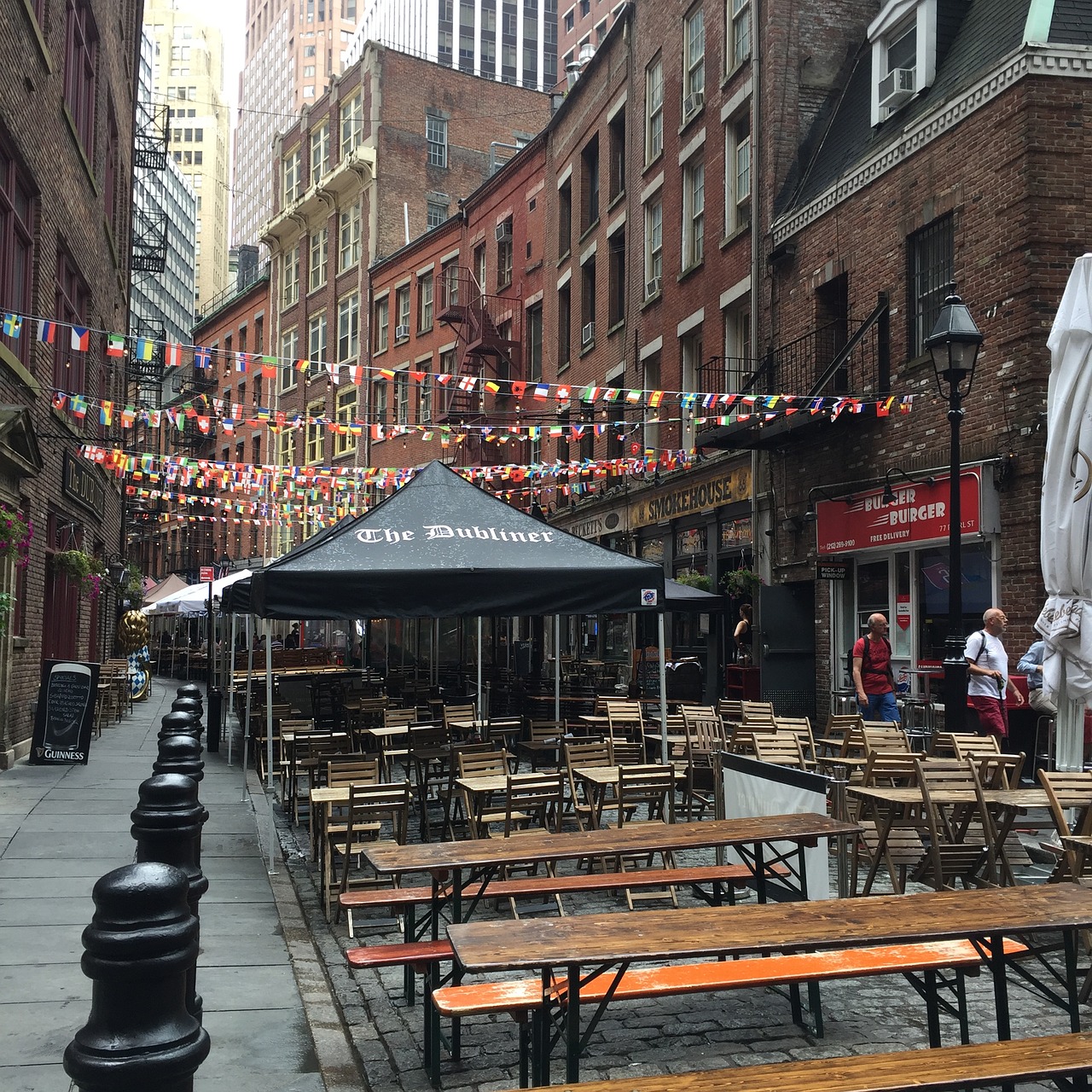 A true hidden gem of downtown Manhattan, Stonestreet boasts a rare collection of Dutch Colonial revival architecture tucked away behind the skyscrapers of the Financial District.
The name is attributed to the cobblestones that line the street — the first of all New York City streets to be paved. As a pedestrian-only block, the area is perfect for outdoor dining and hosts many different eateries. You'll find typical American and bar-style food at standards like The Dubliner or Stone Street Tavern, but see below for some local favorites.
20. Adrienne's Pizza Bar, 54 Stone Street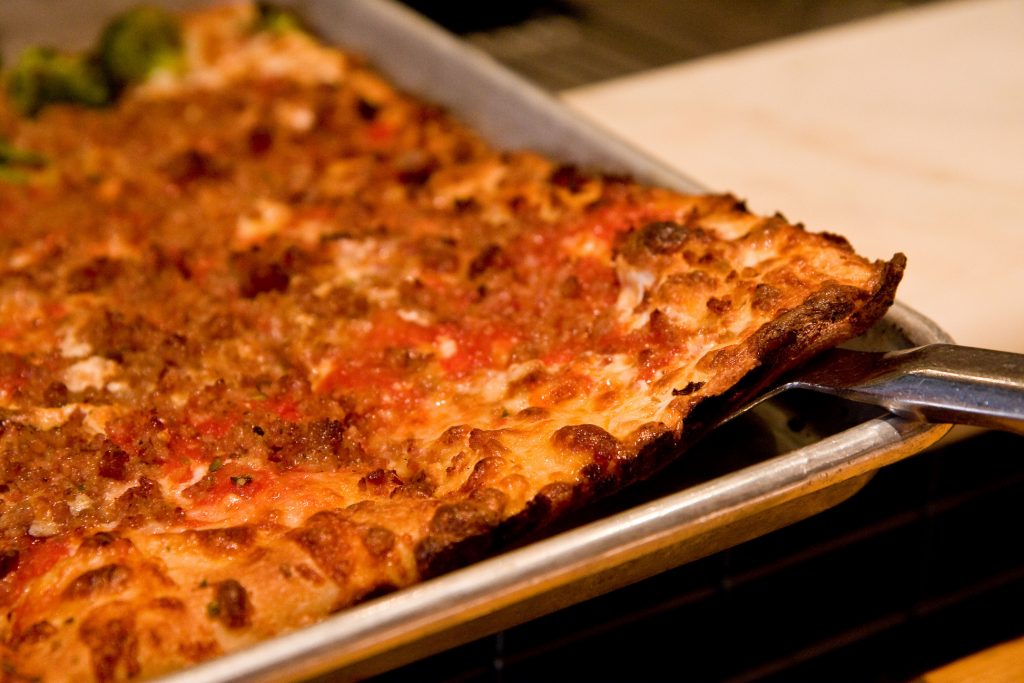 This casual Stone Street pizzeria is a sit-down joint that serves the usual round pies, old-fashioned square pizzas, salads, pasta and an assortment of cocktails.
It's become a bit of an obsession with the regulars at Stone Street — and for good reason.
21. Route 66 Smokehouse, 46 Stone Street
Perfect for meat lovers and anyone looking to get their barbecue fix, Route 66 is another Stone Street favorite, thanks to its hearty portions. Don't miss the upstairs game room and the cracklin' pork clouds — fluffy crisps made from salt cured pork skin. (Don't knock it till you try it.)
22. Brookfield Place, 230 Vesey Street
3 minutes from the 9/11 Memorial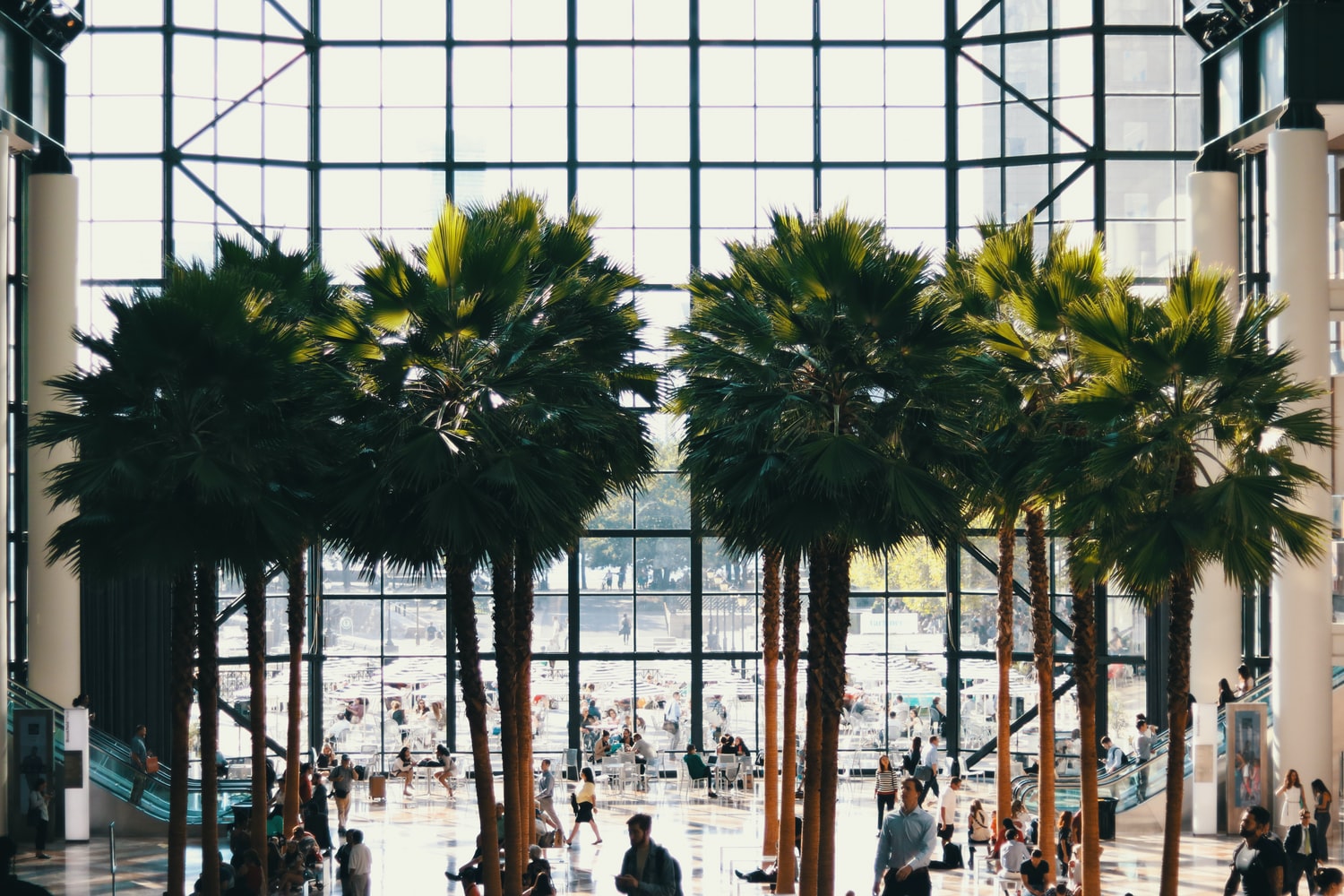 This shopping center and food court is only a few minutes' walk from the Oculus via an indoor passage that runs directly below the 9/11 Memorial. The food court offers diverse dining options and plenty of seating to enjoy your meal — or just relax and enjoy the views of the Hudson River.
Whatever you're in the mood to eat, Brookfield Place has you covered. Choose from barbecue, burritos, salads, ramen burgers, and many more. I recommend Umami Burger for their creative take on the American staple.
The northern entrance of the complex lets off at Vesey Street, which has its own array of sit-down restaurants to choose from.
23. Parm, 250 Vesey Street
7 minutes from the 9/11 Memorial
Parm is an ideal spot for picky eaters who prefer not-too-spicy yet delicious and filling Italian dishes. The space is large and open, so you won't feel cramped like you might in other NYC restaurants.
24. Blue Smoke, 255 Vesey Street
7 minutes from the 9/11 Memorial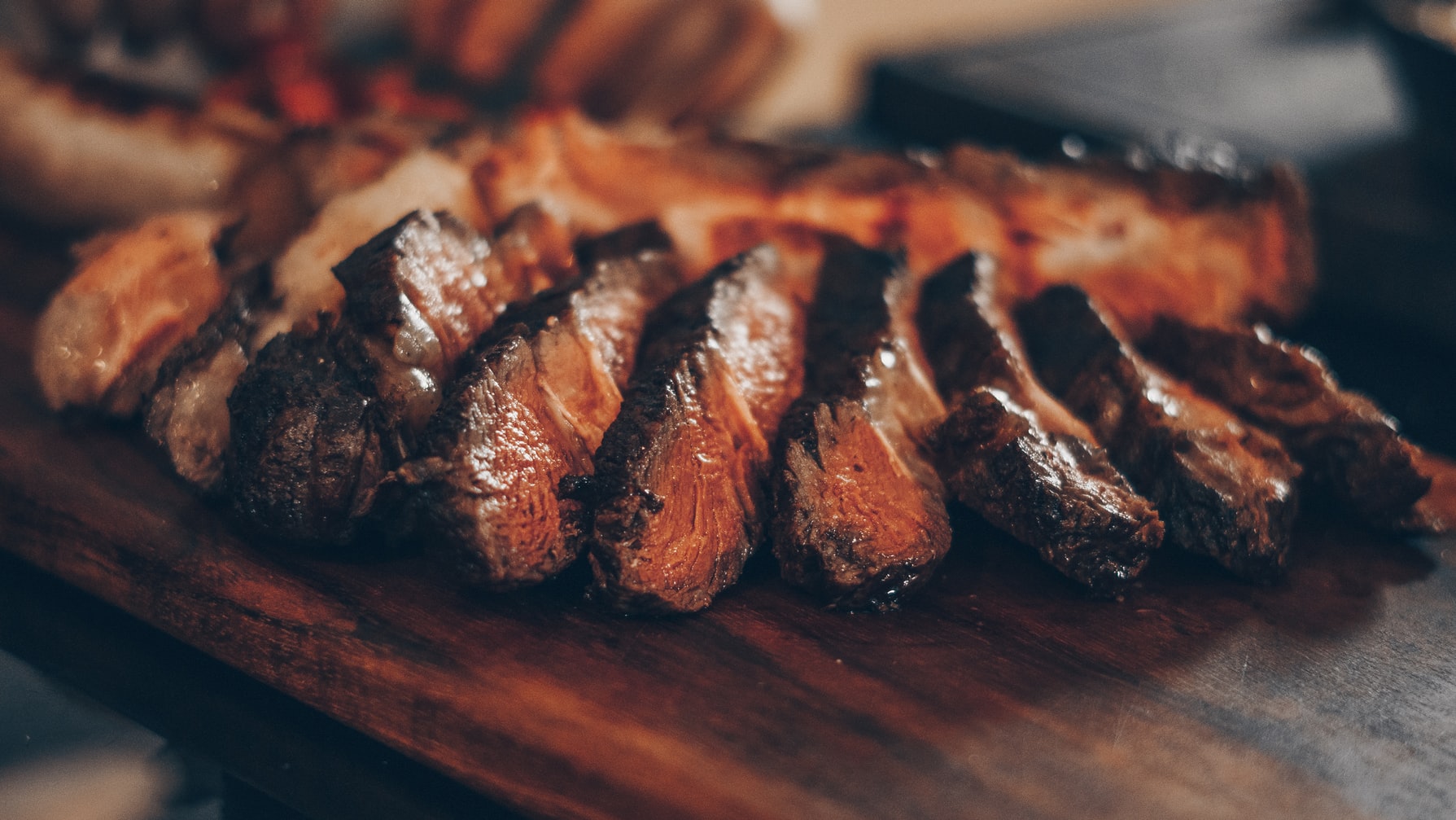 Come for the ribs. Stay for the bourbon.
Be warned, this popular joint closes at 8 p.m. since they often run out of food to feed a crowd all night long. If you're traveling with a group, consider ordering the Backyard Barbecue Picnic, which features samples of all of their meats, sides and dessert.
25. El Vez & Burrito Bar, 259 Vesey Street
7 minutes from the 9/11 Memorial
The interior of El Vez is unforgettable, with vibrant paintings on the walls, flashy lights and eclectic artwork. Modern Mexican food is the name of the game, and the margaritas are beloved by the New Yorkers who dine here.
26. Treadwell Park, 301 South End Avenue
5 minutes from the 9/11 Memorial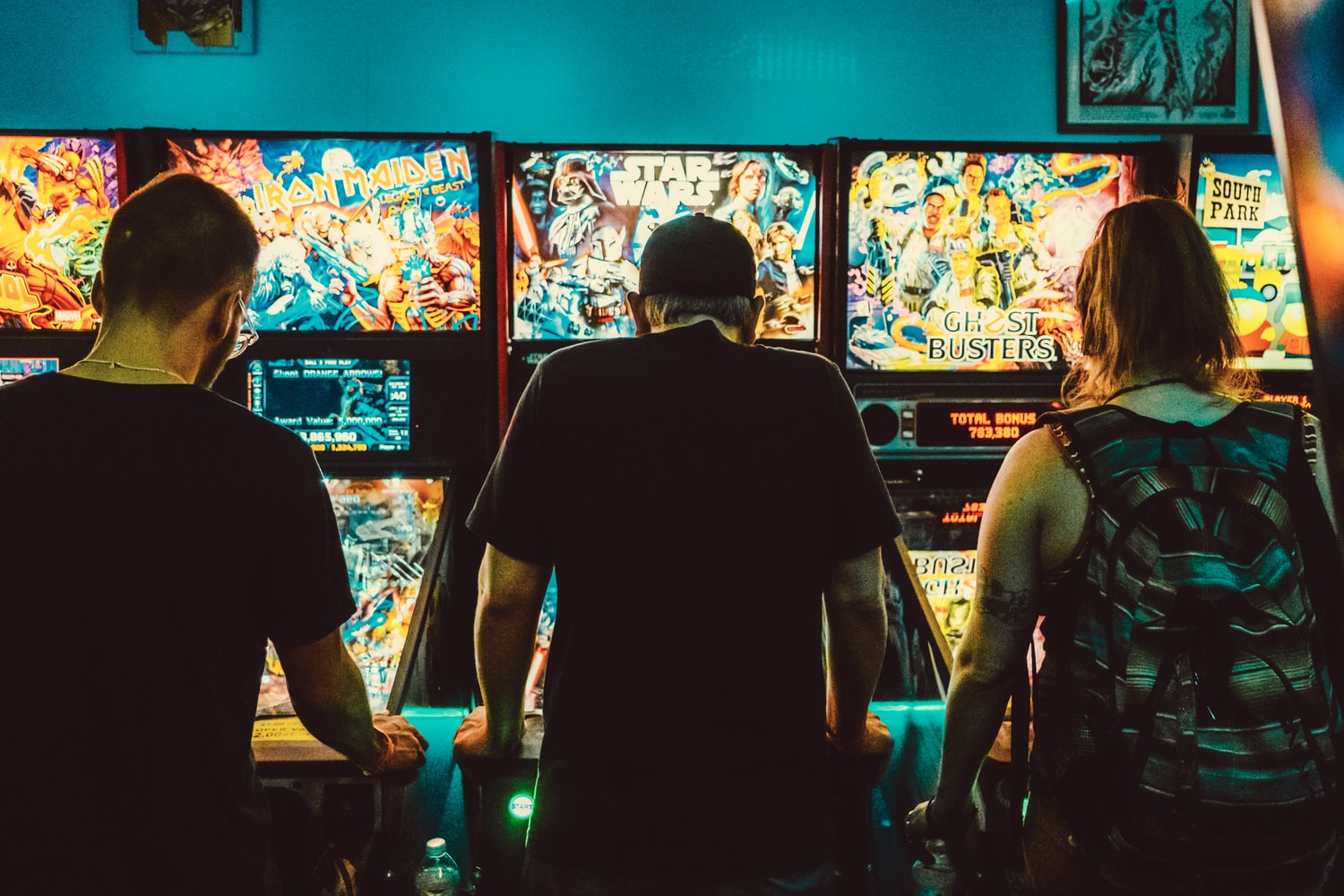 Treadwell Park might just seem like your average bar, but you would be mistaken. The food is enjoyable and there's plenty to drink, sure. But on top of that, there's loads of fun, too. We're talking pinball, board games, and a popcorn machine. It's game night for grownups.
27. The Fulton Center, 200 Broadway
3 minutes from the 9/11 Memorial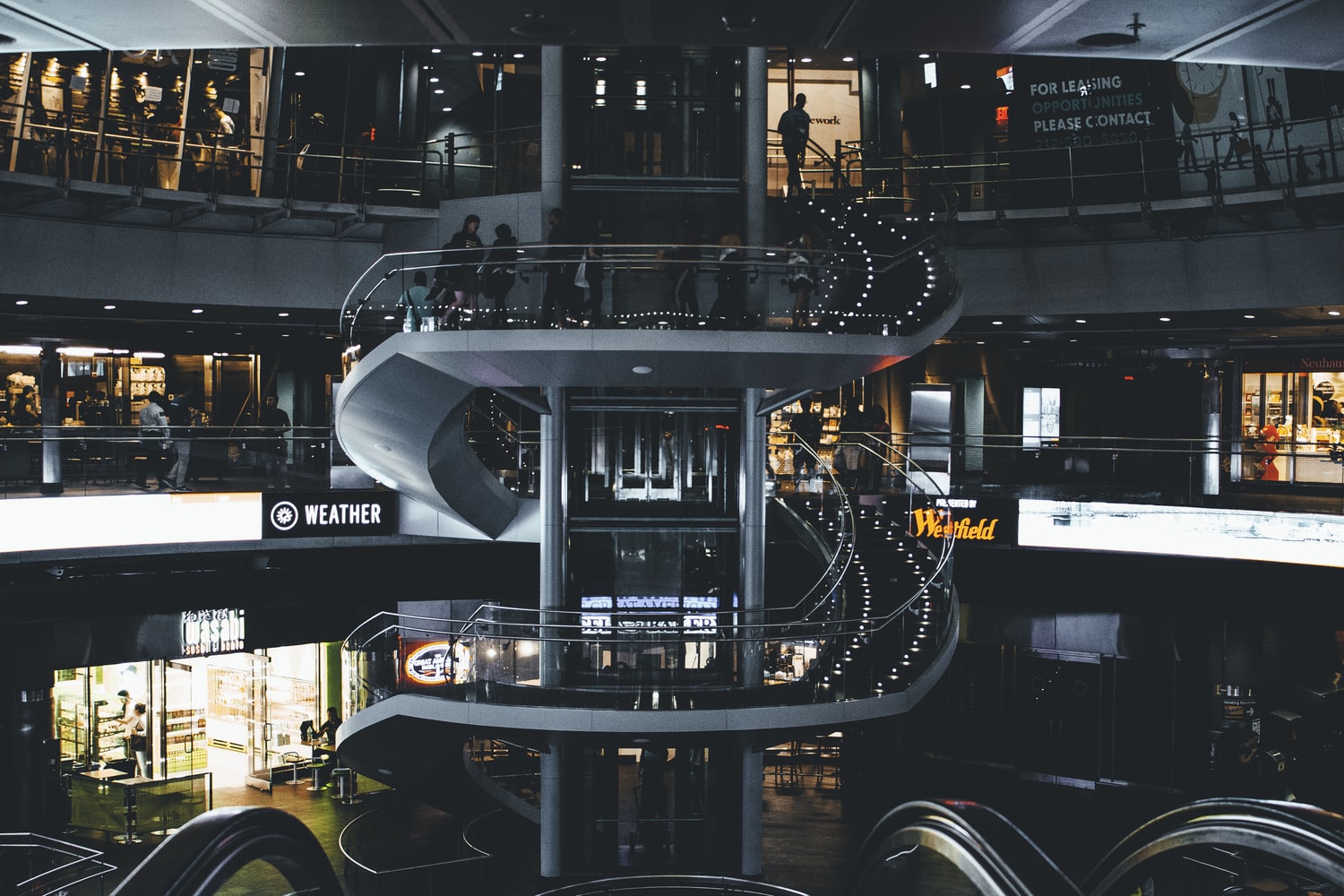 The Fulton Center is, first and foremost, a major subway hub. But above the train platforms, you'll find a shopping center that includes burgers and milkshakes at Shake Shack, sushi and Japanese food at Wasabi, and bagels and sandwiches at the Great American Bagel & Bakery.
If you're looking for a familiar face or a quick snack, there's Auntie Anne's, Buttercup Bake Shop, Haagen Dazs and Irving Farm Coffee Roasters. For a local offering and something sweet, I recommend Nunu Chocolates.
An NYC Financial District Smorgasbord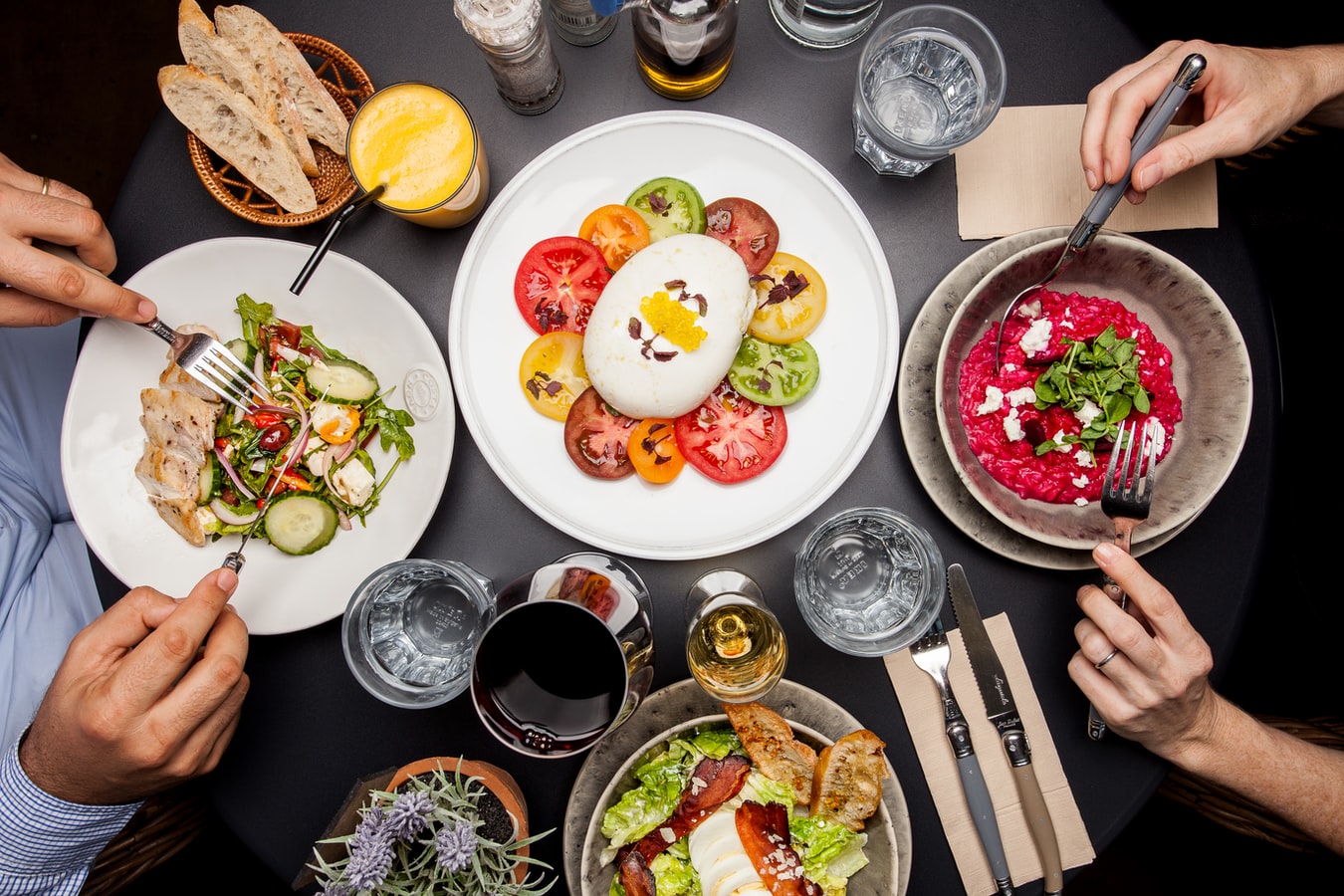 As you can see, there are plenty of options when it comes to where and what to eat in the Financial District. I'm hoping you've found at least one place that sparks your interest.
Truth be told, there's at least another dozen restaurants I just couldn't fit on this list, but many of them would make great choices as well. It's no secret that New York is home to some amazing food, so no matter where you choose, we think you'll find something to savor — and surprise you.
That's just part of the charm of this dramatic, diverse city.